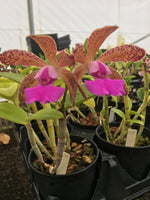 Only The Highest Quality Orchids
We love these plants and know how good it feels to receive a new one. That's why we make sure every customer is thrilled with their order. Rest easy knowing you'll only ever receive top-quality orchids from us.
Shop Now
When you're happy, we're happy
My order arrived yesterday and I am very pleased with the size and condition of the orchid plants.

Doralys A.
I just got my Slo Orchids plants tucked into their new pots. I was also thrilled to see the E. tampensis and A. didieri are in bud. What a delight! I really hope that I can experience the blooms in the near future. They were packaged wonderfully and did not look stressed on arrival, so I am very hopeful. Thanks again for the beautiful plants.

Adria B.
Thank you very much for the new orchid. It is up to the standards of all of the other ones I have gotten from you. It is nice to do business with someone who cares about customer service. Unfortunately, it is a difficult thing to find in the world today. Thank you again.

Susan S.
I received my Coelogyne. Thanks for sending me one in bud. It was a pleasure doing business with you.

Foster
The Coelogyne usitana I ordered from you arrived today, healthy and happy. Thank you for such a fine transaction, with plentiful communication. I am glad to find another good orchid vendor to buy from in future.



Linda
My orchid just arrived. I absolutely love it! Thank you for the super beautiful healthy plant, the awesome communication and the speedy delivery. I'm so very happy. I'll definitely be back.



Mary
Quick service! The plants arrived today in great condition. I look forward to seeing it in bloom. I am sure that I will be purchasing from you again in the future.





Stan
Orchids arrived yesterday and look good. I miss the central coast!

Rusty R.
Thank you so very much. Love your customer service and your orchids!



Lisa